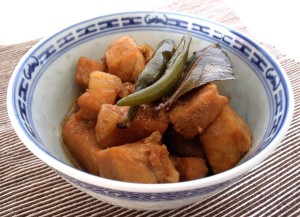 Babi kecap (pork in sweet soy sauce) is a popular dish in Bali. It has a slightly Chinese flavour but with a spicy Indonesian kick.
Ingredients:
500g lean pork – diced
2 stars of aniseed
3 bay leaves
4 tablespoons kecap manis (more if you have a sweet tooth!)
1/4 vegetable stock cube
Spice paste: (chop then grind using a pestle and mortar)
4 cloves garlic
1 tsp pepper
1 tsp salt
1 large red chilli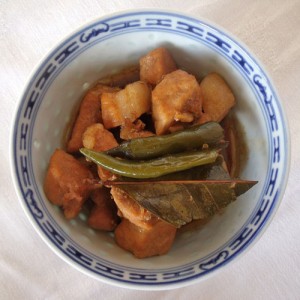 Method:
1. Add a small amount of oil to a hot wok or frying pan. Add the spice paste followed by the diced pork. Brown off the pork and fry until the spice paste starts to release its scent.
2. Add vegetable stock dissolved in 1/2 litre of water along with the bay leaves and aniseed.
3. Simmer for 30 mins until the water has almost all gone and the meat is really tender.
4. Pour the kecap manis over the top (about 4 tablespoons) then cook (stirring constantly) for five minutes.
Serve with rice
Related posts: