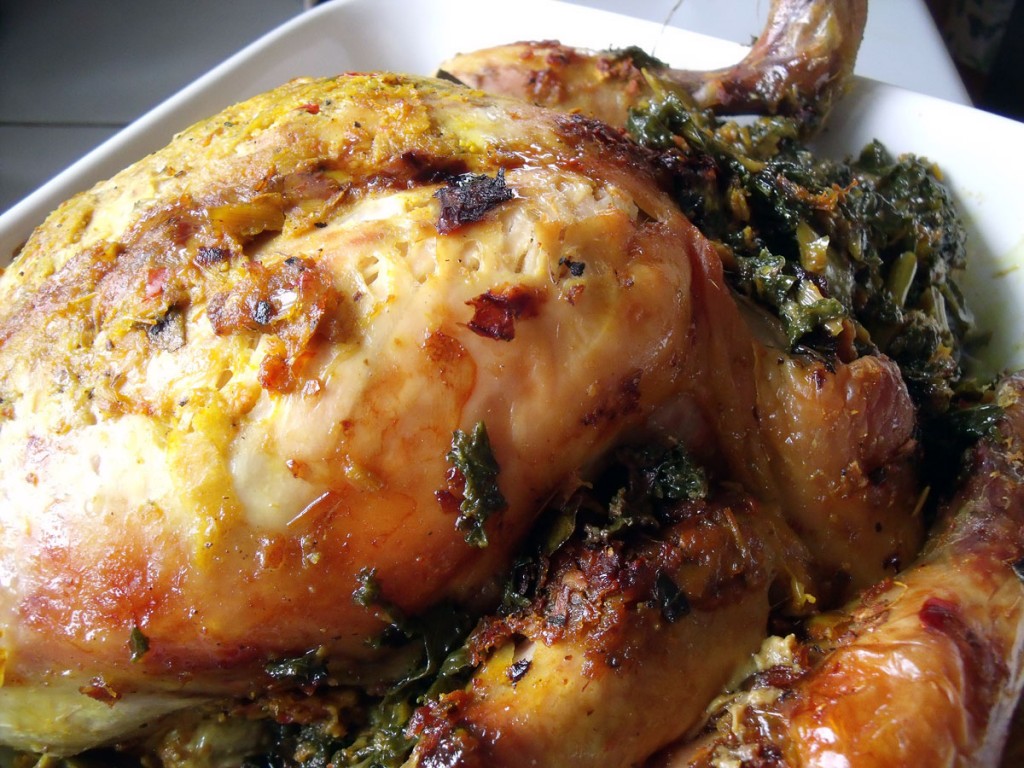 Ayam betutu is one of my all-time favourite dishes. It's a surprisingly easy recipe but really impressive to make for friends or at a dinner party – especially if you open the banana-leaf-wrapped chicken at the table. Because the vegetables are stuffed inside the cavity of the chicken, there's not much washing up either!
In Bali, ayam betutu (or it's more upmarket cousin – bebek betutu) is a real treat. People often make it for special days or temple ceremonies in the same way  people might roast a bird on a Sunday in the UK or the US. By wrapping the chicken in banana leaves, the moisture is kept in and the meat doesn't dry out.
A chicken cooked with this recipe will serve about 6 people depending on how greedy they are!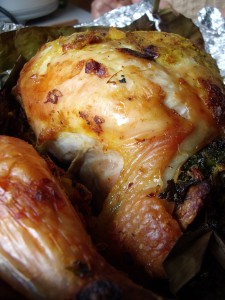 Ingredients:
1 whole  chicken
4 bayleaves
enough banana leaves to wrap the chicken (or use tin foil if you don't have access to Banana leaves)
Stuffing:
100g cassava leaves (or you can use curly kale if you can't get your hands on cassava leaves)
Spice paste:
4 shallots
6 cloves garlic
1 thumb-sized piece of ginger
1 thumb-sized piece of kencur (lesser galangal)
1 thumb-sized piece of galangal
1 thumb-sized piece of tumeric
4 stalks of lemongrass (Finely chopped)
2 red chillies
2 candlenuts
½ tsp  ground black pepper
½ tsp ground corriander
½ tsp  sesame  seeds
¼ tsp nutmeg powder
¼ tsp cumin powder
1 tsp shrimp paste
salt (to taste)
Method:
1.Put the Shallots, garlic, ginger, galangal, tumeric and chillies into the food processor bowl and then add the chopped lemongrass, candlenuts,ground black pepper,,ground corriander, sesame seeds, nutmegs, cumin, shrimp paste and salt and continuing to process until it become a thick paste.
2.Place the chicken into the bowl, and then mix well with ¾ of the spice paste and add the bay leaves.
3.For stuffing, mix the curly kale with the remaining marinade paste, and then put it in the cavaty of the chicken.
4.Cover the whole of chicken with banana leaves or aluminium foil and put in the refrigerator for 2 hours or more.
5.Preheat the oven to a medium-high heat then cook the chicken in the oven until cooked thoroughly.
Serve with rice, sambal matah, fried peanuts and a cold beer!
Related posts: