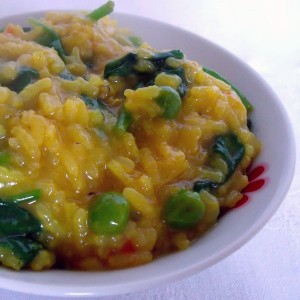 Bubur bali is an easy-to-make meal and full of the right kind of spices to keep you warm on a cold or rainy day. People in Bali often crave bubur as a comfort food when they are feeling sick or under the weather because it's so easy to eat and makes you feel warm inside.
Bubur is normally a kind of rice porridge similar to a Chinese congee but the consistency of this Balinese recipe is slightly thinner and the spinach in it makes it closer to risotto than a normal bubur.
To make this recipe vegetarian, just leave out the shrimp paste.
Ingredients: (for 4 people)
1 cup of rice
1 small bunch of spinach
1 cup of peas
2 bay leaves
salt (to taste)
½ a vegetable stock cube
2 tablespoons vegetable oil
For spice paste:

2 onions
4 cloves of garlic
1cm-long piece of galangal
1cm-long piece of turmeric
1cm-long piece of ginger
½ tsp coriander seeds
1 red chilli pepper (more if you like it spicy)
¼ tsp nutmeng
½ tsp black pepper
½ tsp terasi (shrimp paste)
1 candlenut (if you can get it)
Instructions:
1. Boil the rice in one litre of water with the bay leaf.
2. Crush the ingredients for the spice paste in a pestle and mortar or whizz them in a food processor and mix with the vegetable oil.
3. The rice has started to boil, add the spice paste and vegetable stock then stir well.
4. When the rice has reached a porridge-like consistency, add the pea and cook for five minutes, then add the spinach and cook while stirring until the spinach wilts.
5. Add salt to taste and serve with some fried peanuts or crispy fried shallots on top.
Related posts: