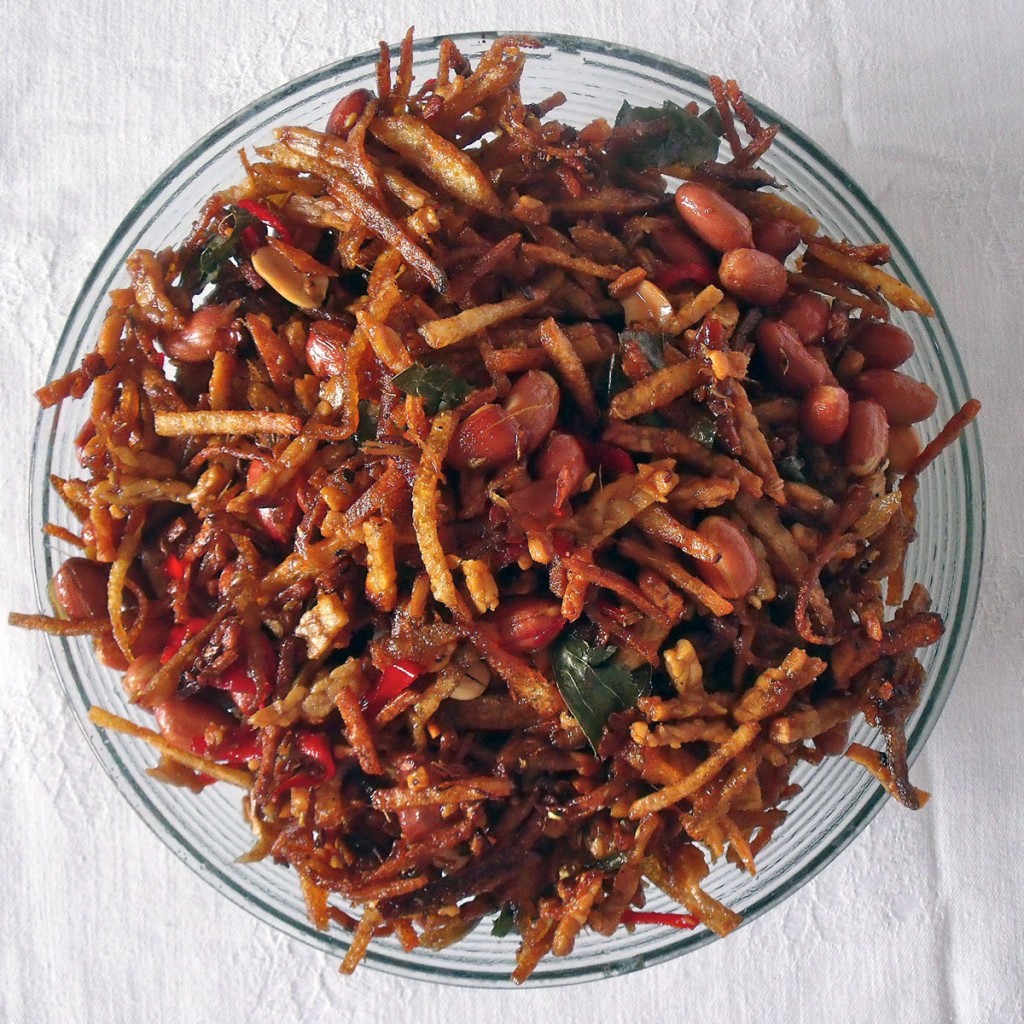 Kering tempe is a sweet treat that can help bring to life even the dullest of plates of rice. This sweet, sticky tempe is something you can serve right away or save for later and sprinkle over plain steamed rice for a quick snack. If you're feeling particularly naughty, you can just nibble at the tempe by itself. Be warned, though – it's not diet friendly and is extremely moreish!
This kering tempe recipe will serve four people as a side dish or will keep well in a cool, dry place if you want to keep it all to yourself.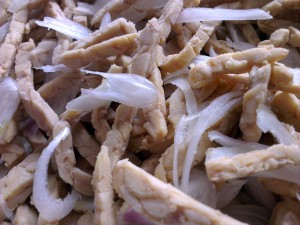 Ingredients: (serves 4)
200 gr tempe (sliced into thin 2cm matchsticks)
3 shallots (sliced)
75 gr peanuts
2 potatoes (peeled and sliced into matchsticks, soak in salted water for about 5 minutes and then drain thoroughly.
2 bay leaves
1 big chilli (sliced into thin matchsticks)
Oil for deep frying
1/4 vegetable stock cube (mashed)
3 tbsp palm sugar
Spice paste: (Crush in a pestle and mortar)
2 cloves garlic
A 2cm piece of galangal
Salt and pepper (to taste)
Method:
Mix together the tempe and the shallots. Divide the mixture into 3 portions. Heat the pan or wok until the oil is piping hot. Deep fry the tempe until cooked, remove from the oil and put into a bowl. Do it this until the tempe is all used.
When the Tempe is ready, deep fry the peanuts until cooked and crispy, remove from the oil and put into a bowl.
After the peanuts are ready, deep fry the potatoes until cooked and crispy then remove and put into a bowl.
Remove the oil, leaving about 3 tbsp in the wok. Add the spice paste and chilli, stir fry for 1 minute and then add the palm sugar continue stir fry until fragrant. Once it starts to smell delicious, add the tempe, peanuts, potatoes chips, bay leaves and vegetable stock, mix it very gently to blend everything well. If it's not sweet enough you can add a bit more kecap manis to give it a little extra sweetness.
Serve with sambal goreng ati, nasi gurih and ayam sisit for a complete meal.
Related posts: