Nasi goreng (fried rice) is classic Indonesian comfort food. There are loads of different varieties of nasi goreng and this recipe is easy to adapt to your own personal tastes by adding more spices or ingredients. This recipe serves four adults.

Ingredients: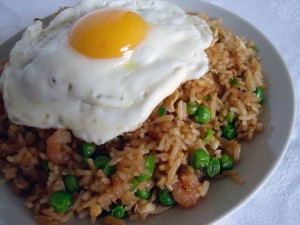 4 cups of cooked rice
150g meat of your choice or prawns
100g frozen peas
2 tablespoons dark soy sauce
2 tablespoons light soy sauce
1 tablespoon kecap manis
1 teaspoon sesame oil
2 eggs
3 cloves of garlic (finely chopped)
1 coin-sized slice of ginger (finely chopped)
vegetable oil
Method: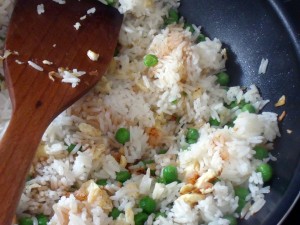 1. Scramble the eggs in a wok then remove and save for later.
2. To a hot wok, add the vegetable oil and sesame oil. Then add the garlic and ginger and cook for a few seconds. Add the meat and fry until cooked through.
3. Once the meat is cooked, add the frozen peas and stir-fry for a minute.
4. To these ingredients, add the rice, scrambled egg, soy sauce (dark and light), kecap manis and salt and pepper to taste. Stir-fry until evenly mixed and cooked through.
Serve with a fried egg on top for an authentic Indonesian experience.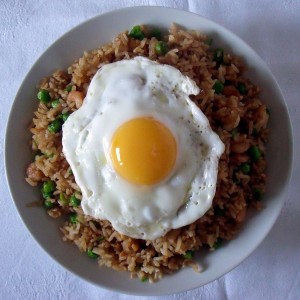 Related posts: