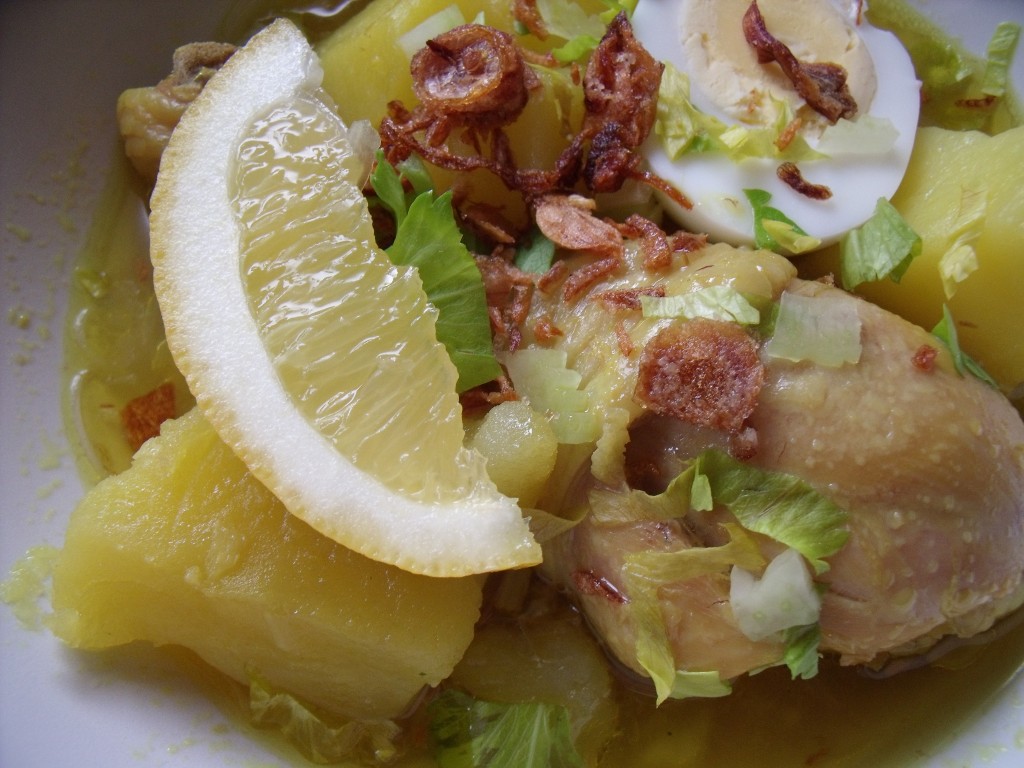 Soto ayam is one of my favourite dishes when I'm ill or when the weather is cold. This soto ayam is really good to make you warm when you are cold. In Indonesia it's easy to find people selling soto ayam on street corners or in markets and you can eat it at any time of day.
There are hundreds of varieties of soto ayam but the Madura and Surabaya styles are the most famous.
This simple soto recipe will give you the full flavour of the dish but is quick to make.
Ingredients: (Serves 6)
1kg Chicken (breast or drum sticks)
4 lime kaffir leaves
2 bay leaves
2 lemongrass stalks (crushed)
3 tsp vegetable oil
100g rice noodle (2 small packets)
4 boiled egg halved
3 potatoes peeled and cubed
1 litre of hot water blended with veg or chicken stock
For the garnish:
Celery leaves
Fried onions
1 lime or lemon quarter
Spice Paste:
2 shallots
4 cloves garlic
5 cm ginger
5 cm fresh turmeric
5 cm galangal
1 candlenut
Salt and pepper to taste
Sambal:
3 small red chillies
2 big chillies
Method:
1. Cut the chicken into manageable portions (cut at joints or dice breast)
2. Use a pestle and mortar or a food processor to blend the paste.
3. Heat 3 tsp vegetable oil in a pan and add the paste, the chicken, lime kaffir leaves, bay leaves and lemongrass. Stir until fragrant, and then add the water. Continue to cook until the meat is tender.
4. Add the potatoes and cook for 10 minutes until softened.
For the sambal, boil the chilli until cooked and use a pestle and mortar or food processor to grind until smooth.
For the rice noodles, put into hot water for 5 minutes or cook following packaging directions.
How to serve:
In the serving bowl, place the rice noodle, a ladle of the soto ayam and halved boiled egg. Garnish with celery leaves, fried onion, little bit of sambal and squeeze of lemon or lime.
Serve with a separate bowl of steamed rice or put a cupful of steamed rice into the soup if you want to have it roadside street-vendor style.
Related posts: