Although not one of Indonesia's most famous dishes, light curries usually made with coconut milk are actually very popular. Vegetable curries tend to be quite rare but we love using tofu or tempe in curry as an alternative to meat. The tofu in this dish soaks up so much of the sauce that each piece is a little flavour-bomb ready to go off in your mouth.
This quick kare tahu recipe  is one of our favourite dishes to cook when we have vegetarian or vegan friends over for lunch. We usually cook it as a mild curry but if you are a chilli-addict, it's fine to add a few more chillies for extra spice.
Ingredients: (serves 4)
500 gr fresh tofu (sliced into cubes)
3 potatoes (peeled and cut into cubes)
1 stalk of lemongrass (crushed)
2 bayleaves
2 kaffir lime leaves
1 vegetable stock, made up with 150 ml hot water
165 ml coconut milk
Vegetable oil for deep fry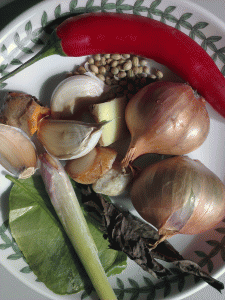 Spice Paste (Grind in pestle and mortar or blend in a food processor):
2 shallots
3 cloves garlic
1 big chilli or more
1 candlenut
A 1/2 cm piece of ginger
A 1/2 cm piece of galangal
A 1 cm piece of fresh Turmeric or 1/2 tsp ground turmeric
1/2 tsb corriander seeds
Salt and pepper (to taste)
Method:
Heat a pan or wok with enough oil in to deep-fry the tofu until the oil is piping hot, and then deep fry the tofu until it's cooked or turns brown. Remove from the oil and put into a bowl. Repeat until all the tofu has been deep fried.
Remove the oil, leaving about 3 tbsp add the spice paste, lemongrass, kaffir lime leaves and the bay leaves. Stir-fry until fragrant.
Add the potatoes and the tofu to the wok, mix it very well and then add the coconut milk and the stock. Continue stirring until the potatoes, the tofu and the paste are thoroughly mixed.
Cover and leave to simmer until the potatoes are cooked through.
Serve with steamed rice or bread such as naan bread or roti canai.
Related posts: