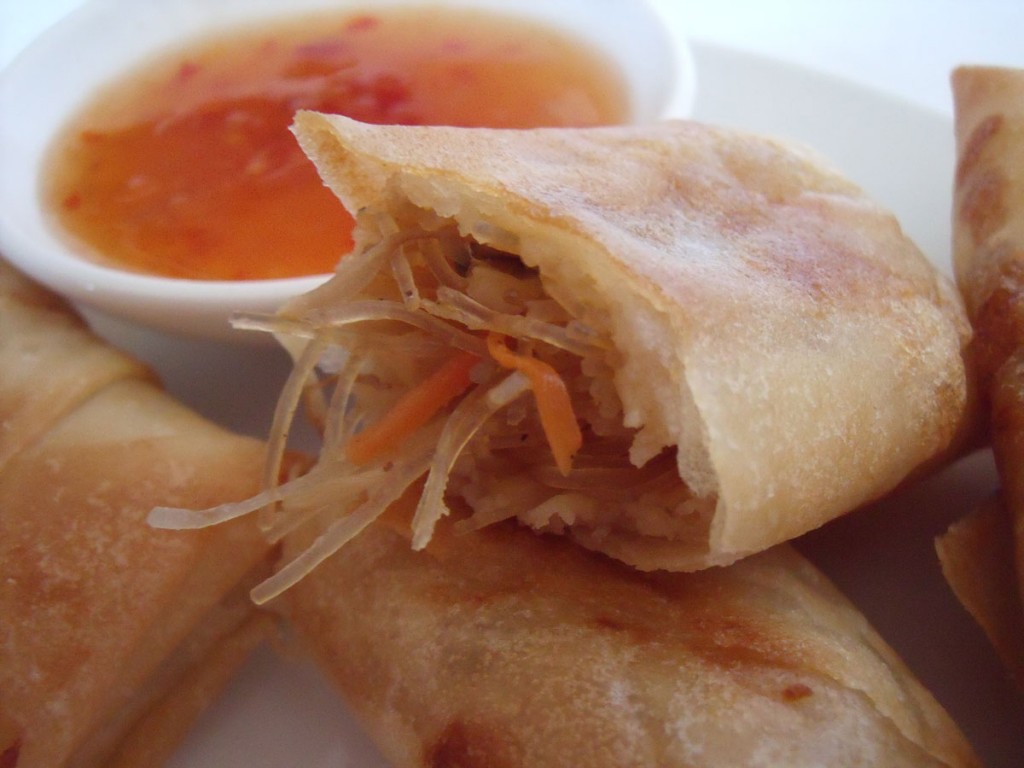 When we have friends over in the UK, there are a few things that people request for lunch over and over again. Crispy lumpia (spring rolls) is one of these things. We usually like to make a big batch of lumpia and keep it in the freezer. Once you've got the knack of rolling them (see the video below), it's really quick to make a big stack of lumpia and freeze them.
Lumpia isn't strictly a Balinese (or Indonesian) recipe and can be found throughout Southeast Asia – the most famous variety coming from the Philippines. The recipe below will make 40 lumpia and is vegetarian-friendly.
Ingredients: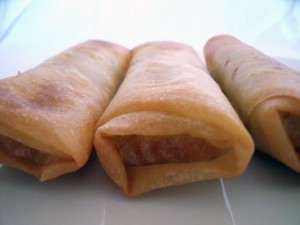 1 pack spring roll pastry (40 sheets)
1 egg (beaten)
For the filling:
1 pack beansprouts
2 carrots (thinly sliced)
50 gr dried vermicelli rice noodles (soaked in hot water for 10 minutes then drained and cut roughly into 2cm pieces)
1 celery stalk (sliced)
3 cloves garlic (finely sliced)
1 shallot (finely sliced)
1 tbsp dark soy sauce
1 tbsp light soy sauce
salt and pepper
Vegetable oil (enough to deep-fry 4 spring rolls at a time)
Method:
1. Heat the frying pan with a little bit of vegetable oil, and then add the garlic and shallots. Stir fry until brown and then add beansprouts and carrots. Continue to stir fry for 2 minutes and add the vermicelli rice noodles, celery, dark and light soy sauce, salt and pepper stir fry for 3 minutes, remove and leave to cool.
2. Place 1 sheet of spring roll and then add 1 tablespoon of the filling. Next, the bottom edge away from you, over the filling, fold in the sides and roll up (see the video below). Brush the end with a little bit of beaten egg. Do it until you've used up all the spring roll pastry (they freeze very well if you don't want to cook them all now).
3. Heat the pan or frying pan add the vegetable oil, when it piping hot deep fry the spring roll until brown and crispy.
Related posts: