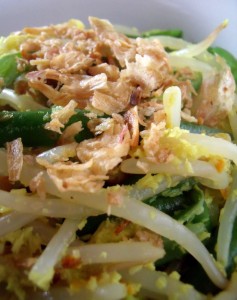 While Bali is most famous for its meat dishes such as babi guling, no Balinese meal would be complete without at least one vegetable dish. Sayur urab (Balinese mixed vegetables) is a really simple dish to make and provides a slightly cooler counterpart to the other spicier dishes that it might be served with.
Sayur Urab can be served hot but it's more common to have it cold in Bali because the owners of food stalls will prepare the vegetables and spices in advance then just mix them together for each portion they sell.
Ingredients: (serves four people)
200g beansprouts
200g green beans
Spices for the vegetables:
1 cup dessicated coconuts
1 bay leaf
1 kaffir lime leaf
1 stick of lemongrass (crushed)
½ a cube of vegetable stock (mixed with 2 cups of hot water)
salt and pepper (to taste)
Spice paste: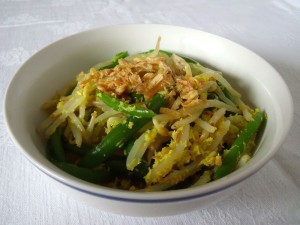 (grind in a pestle and mortar or blend in a food processor)
1 cm ginger
1 cm galangal
2 cm tumeric (or 1 tsp tumeric powder)
1 chilli pepper (use more if you like it spicy!)
1 shallot
3 cloves of garlic
Instructions:
1.Mix the dessicated coconut with the ground spice paste, bay leaf, kaffir lime leaf, 2 cups of vegetable stock, lemon grass. Simmer and reduce until there is only a little water remaining. Add salt and pepper to taste. Remove from the heat and leave to cool.
2. Boil the green beans and beansprouts until they are cooked but still a little crispy, then remove from the pan and drain.
3. Add the spices to the vegetables just before serving and mix thoroughly.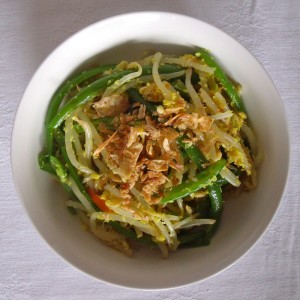 This dish can be served hot or cold. If you want to serve it as a cold salad, remember to only mix the vegetables and spices just before serving. For an authentic Balinese touch, add some fried peanuts or shallots on top of the sayur urab before you eat it.
Related posts: