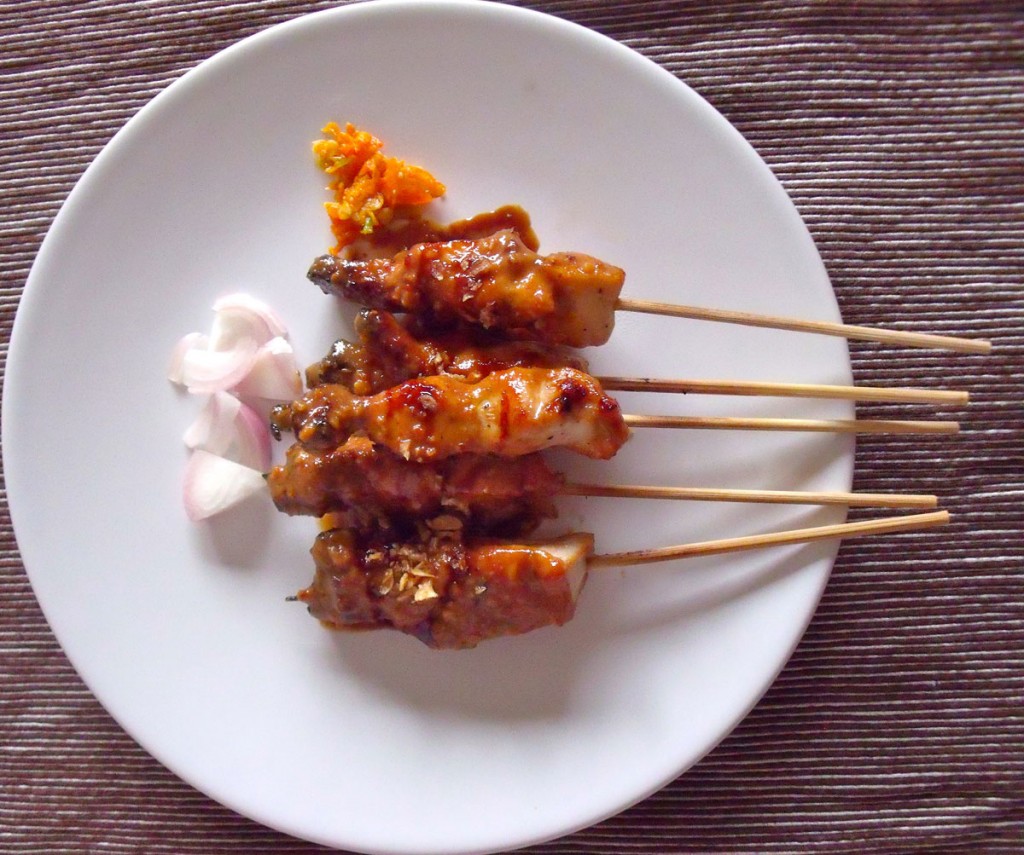 Whenever I order Sate (satay) in the UK, I'm always presented with some huge lumps of meat on a kebab-sized skewer. It's a long way from what we are used to in Indonesia. One of the great things about sate is that you only need little pieces of meat to make it. Small pieces of chicken soak up the marinade better and taste great when the go a little crispy as they are cooked over a really high heat.
Sate makes a great starter or party food because it's so easy to eat with your fingers. You can also cook it on a barbecue in the summer and it's great for impatient chefs because the chicken cooks so quickly. This recipe is for chicken sate and the sauce is lighter in flavour than one you might use with lamb or beef.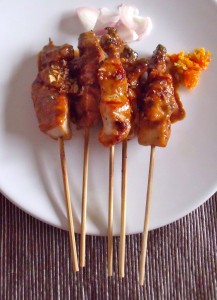 Ingredients:
500 gr chicken breast
Marinade:
1 tsp tumeric powder
3 tbsp dark soy sauce
2 tbsp light soy sauce
2 tbsp olive oil
juice of ½ lemon
salt and pepper
Peanut sauce:
150 gr roasted or fried peanuts
1 small chilli
2 cloves of garlic
25g palm sugar or 3 tbsp brown sugar
A 2cm piece of kencur (white ginger)
salt and pepper
Note: you will also need some thin skewers for this recipe.
Method:
1. Cut the meat into thin 3cm slices. Mix the marinade ingredients in a bowl. Mix the meat with the marinade then cover with clingfilm and leave in the fridge for at least 30 minutes.
2. For the peanut sauce, fry the chilli, garlic and kencur over a medium heat for a couple of minutes then remove from the heat and grind in a pestle and mortar, adding the peanuts and continuing to grind until it is a coarse paste. Mix this mixture with 2 cups of water then transfer it back to the pan. Bring to the boil then add the kaffir lime leafs, palm sugar, salt and pepper then simmer until thickened slightly, stirring all the time.
3. Thread 2 or 3 pieces of meat onto each skewer. Preheat the grill, griddle or barbecue and cook the meat on it, turning regularly until the meat is cooked through.
Serve the sate ayam on a plate and add the peanut sauce over the top or in a pot on the side for people to dip the sate in. We also like to make a simple sambal from crushed chilli and serve the sate with some sliced raw shallots.
Related posts: