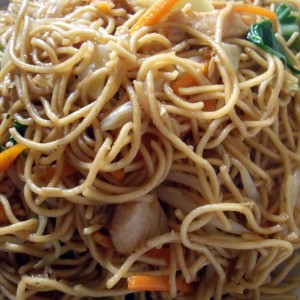 Mie goreng (sometimes spelt 'mi goreng') is a really simple dish that only takes a few minutes to make. It can be bought at food stalls all over Indonesia and everyone has a slightly different way of cooking it. Mie goreng can be served as a main course but it's also commonly found served with nasi kuning (yellow rice) or as one of the components of nasi campur (mixed rice).
This recipe is for a simple mie goreng that is easy to adapt to your own tastes. If you like it spicy, add a chopped large red chilli and if you like different kinds of meat or seafood, you can use them in place of the chicken. Using 75g of chicken and 75g of prawns is a particularly nice mix.
Ingredients: (serves 4 people)
125g dried egg noodles or one pack of fresh cooked noodles (about 400g)
150g chicken (diced)
2 eggs
1 large carrot (cut into thin strips like matchsticks)
75g cabbage (cut into strips or squares)
2 spring onions (finely sliced)
2 cloves of garlic (finely chopped)
1cm-long piece of ginger
2tbsp dark soy sauce
2tbsp light soy sauce
2tbsp oyster sauce
4tbsp kecap manis
1tsp sesame oil
salt and pepper (to taste)
vegetable oil (enough to fry the noodles)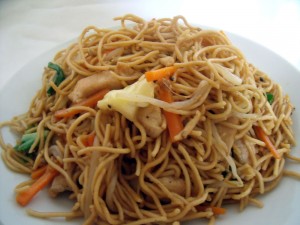 Instructions:
1. Boil the noodles (if you are using dried noodles) until cooked then remove from the heat and drain. Sprinkle a little vegetable oil over the the noodles and mix it in, then add the 3tbsp of kecap manis and mix it until it is evenly distributed.
2. Heat a wok, add a little oil and scramble the eggs. Remove when cooked and set aside.
3. To a hot wok, add a little vegetable oil then fry the garlic and ginger until they start smelling good. Then add the diced chicken and stir-fry until cooked through.
4. Add the carrot, spring onion, scrambled egg and cabbage and continue to stir-fry then add the noodles, light and dark soy sauce, oyster sauce, and sesame oil. Mix thoroughly and continue to fry until cooked. Season with salt and pepper to taste.
5. Remove from the heat and serve with a sprinkle of fried shallots on top.
Related posts: