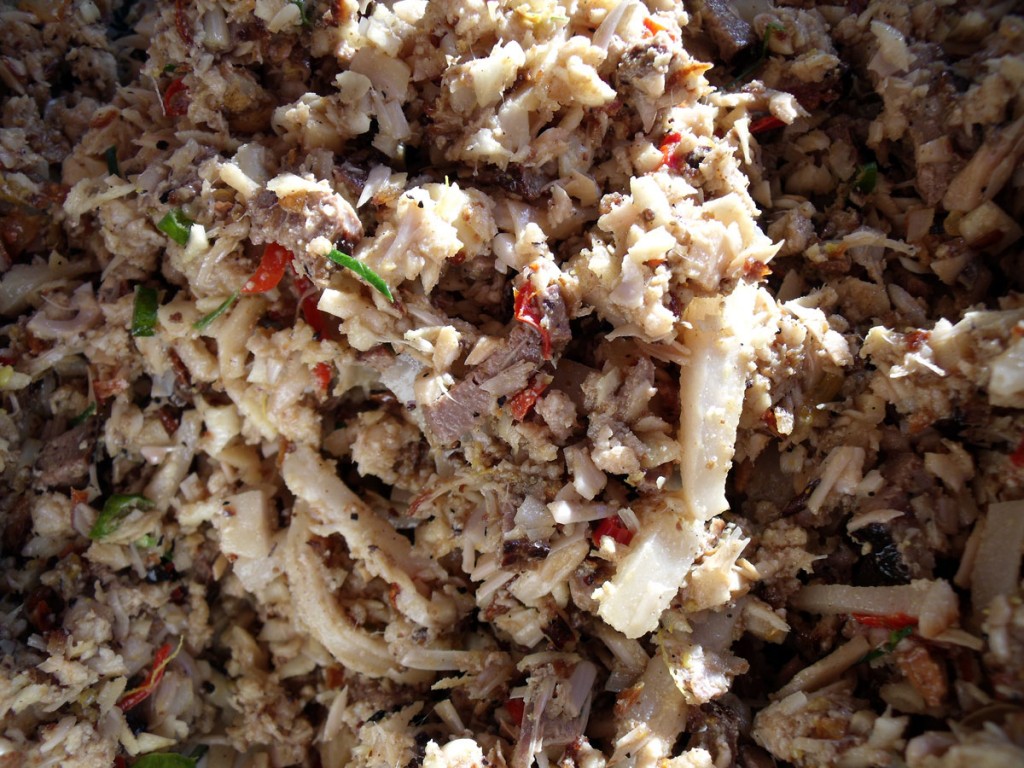 In Bali, we have a word, 'mebat', which means something like 'chopping' but implies that the chopping is done with friends. What could be fun about chopping? you may ask. Well, 'mebat' is more than just chopping – it's chopping and chatting… and often drinking, too. Groups of guys will get together to finely chop the meat and spices needed to make lawar, have a few beers or glasses of arak, and generally have a good time.
Lawar (finely chopped meat and spices) is one of Bali's most famous dishes. There are hundreds of different recipes for lawar made from any different kind of meat you can imagine. This is a really simple lawar recipe that you can adapt to use with whichever kind of meat you prefer.
To make lawar, you will need a good knife for chopping and a strong wrist!. In Bali, we use a knife called 'belakas' (see pictures) which is a very heavy chopper – somewhere between a cleaver and an axe. If you don't have a belakas to hand, a chinese cleaver will do fine.
This recipe will make enough lawar to feed 6 hungry people.
Ingredients:
500gr pork belly
200gr pork liver
2 can green jackfruit
½ a coconut
1 bayleaf
4 kaffir lime leafs ( finely sliced)
½ a cube of veg stock blended with a cup of water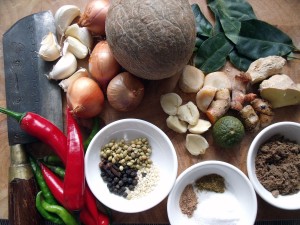 For Base Genep (spice paste – grind with a pestle and mortar or use a food processor to blend):
A 5cm piece of galangal
A 5cm piece of tumeric
A 3cm piece of ginger
A 5cm piece of kencur (lesser galangal)
1 tsp corriander seeds
1 tsp sesame seeds
½ tsp black pepper seeds
½ tsp white pepper seeds
2 cloves
2 candlenuts
½ tsp cumin seeds
½ tsp nutmeg powder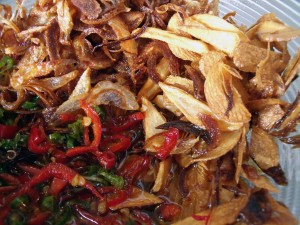 For Sambal Embe (2nd spice paste):
4 shallots ( finely sliced)
4 cloves of garllic (finely sliced)
5 chillies ( finely sliced)
1 tbsp shrimp paste
Method:
Slice the pork, separate the skin from the meat and then boil the the skin until tender, leave to cool and then slice. For the meat – chop finely until it has a consistency like mince and add the bay leaf, a little bit of vegetable oil. Put in a wok and stir fry for a few minutes then add a cup of water and boil until the meat is cooked. Griddle or grill the pork liver until cooked, leave to cool and then chop finely.
Boil the green jackfruit  for just a few minutes and then drain leave to cool then cut finely.
For base Genep, stir fry with vegetable oil until cooked.
Grill the coconut until brown then cut the brown skin off, crush it, and stir fry it. Finely chop (or grate) the remaining white part of the coconut.
For sambal embe, deep fry the shallots until cooked, put in a bowl and then fry the garlic, remove it when cooked an put in the bowl with the shallots. Repeat the  process with the chilli and the last the shrimp paste then add the frying oil to the bowl with with the shallots, garlic, chilli and shrimp paste.
Mix the meat, pork skin, pork liver and coconuts with base genep, skin coconut fried and sambal embe until mixture and then add the finely jackfruit, slices of kaffir lime leafs, salt and toss well.
Serve with rice and sayur urab.
Related posts: