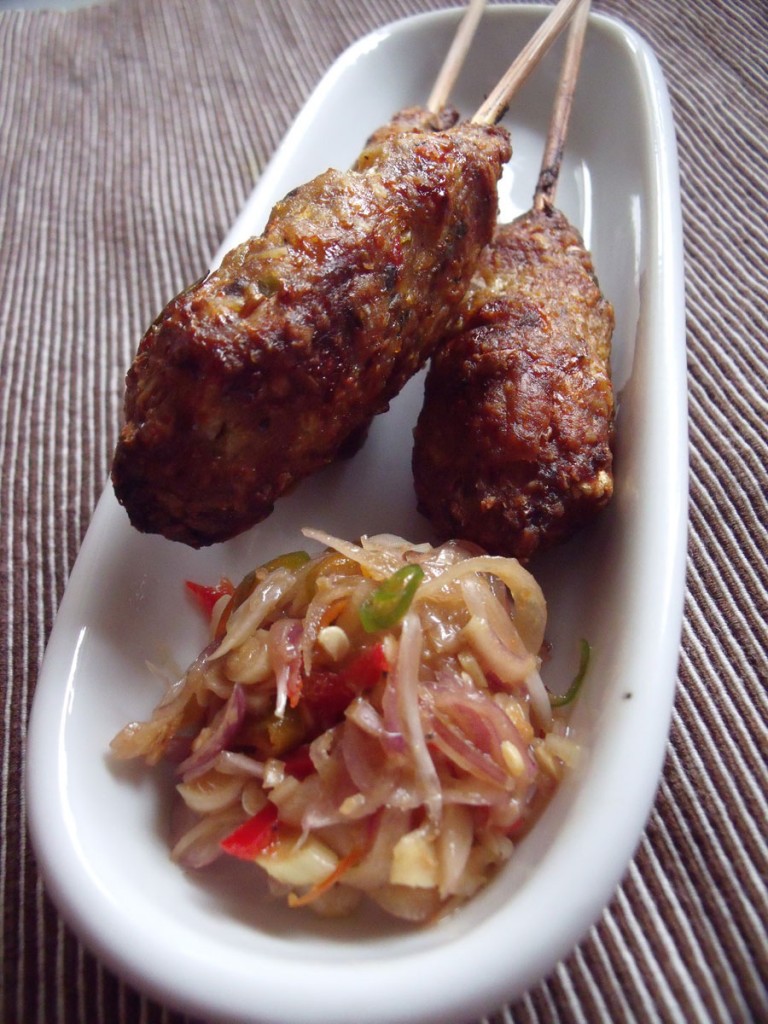 Sate lilit holds a special place in my heart. It's one of the things we cook most often in Bali for parties with friends. Sitting around a small barbecue with a cold beer and some good friends grilling sate is always a recipe for a great evening.
Sate lilit is different from other types of sate in that it's made as a paste and stuck around a stick rather than skewered as whole chunks of meat like you would usually expect of sate. The skewers are usually made of the soft middle section of a coconut palm leaf cut into thick sticks however as they are rather hard to come by elsewhere, it's fine to use bamboo skewers or even cook it as small balls without skewers.
You can make sate lilit from pork or chicken but this recipe uses seafood which is also very common in Bali. Sate lilit is commonly made from tuna but any oily fish will work fine and we've found the mixture below to be the most reliable for us.
Ingredients
350 gr mackerel
150 gr prawns
70 gr fresh grated coconut (or 50g dessicated coconut put in ½ cup of water and microwaved for 3 minutes)
2 tbsp veg oil
2 kaffir lime leaves (chopped finely)
Skewer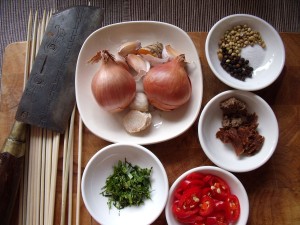 Spice paste (Crush in a pestle and mortar)
2 shallots
4 cloves garlic
1 candlenut
1 big chilli
1 tsp corriander seeds
3 cm fresh tumeric
2 cm galangal
½ tsp shrimp paste
1 tsp palm sugar
salt and pepper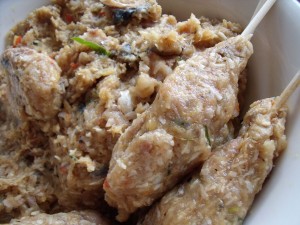 Method
Put the mackerel and prawns in the food processor and process until smooth.
Mix the ingredients (including the oil) and the spice paste thoroughly.
Take a little handful of sate mixture and squeeze onto the end of a skewer so it completely covers the tip and comes about an inch and a half down the skewer (see picture). If you want to add a fancy restaurant touch, use a stick of lemongrass instead of a skewer. Repeat the process until the mixture is finished.
Preheat the grill, griddle or barbeque and cook the meat on it. Turning regularly until the meat cooked through.
Serve with sambal matah, rice, vegetables and a cold beer! This goes particularly well with sayur urab.
Related posts: