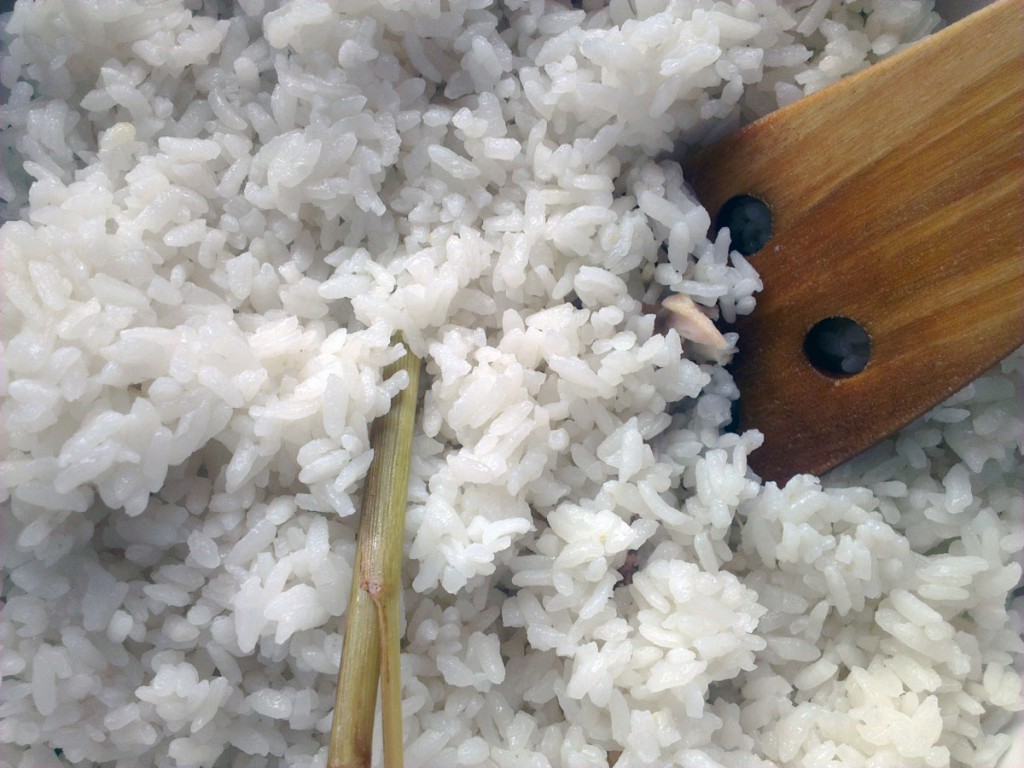 'Gurih' is an Indonesian word meaning 'tasty', 'appetising' or sometimes 'tempting'. 'Nasi' is the Indonesian word for cooked rice. Put them together and what do you get? That's right – delicious rice!
Nasi gurih is rice cooked with stock and coconut to give it an extra level of flavour. It has cousins such as nasi kuning (yellow rice) or even nasi lemak (Malaysian coconut rice) but because this nasi gurih recipe is simpler, it's something I tend to cook more often.
This recipe makes enough nasi gurih for four generous portions so if you need more or less, scale it up or down accordingly. For vegetarian and vegans, swap out the chicken stock for vegetable stock.
Ingredients: (Serves 4)
350 gr jasmine rice
1 stalk of lemon grass (crush but leave in one piece)
a 10cm section of pandan leaf
2 bay leaves
165 ml coconut milk topped up with 400 ml and 1/4 cube veg/chicken stock.
a pinch of salt.
Method:
Wash the rice 3 times or until the water it is in is clear. Put the rice into a steamer. Steam until half-cooked.
In a saucepan put the coconut milk blended with the water and stock, bay leaves, lemon grass, pandan leaf and salt, bring to the boil.
Place the half-cooked rice a big bowl and pour the coconut milk mixture onto it, stir well and wait until the water has been absorbed by the rice.
Put the rice back into the steamer and continue to cook until it is cooked through and fragrant .
Serve with sambal goreng hati, bihun or mie goreng, ayam sisit or tempe lalah manis.
Related posts: