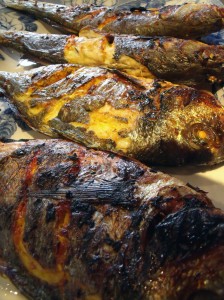 Eating ikan bakar (grilled fish) on a beach while watching the sun set in Bali is one of the greatest joys life has to offer. There are loads of ways of making ikan bakar but this simple Balinese recipe is one of our favourites and you can use it with almost any fish you like. In the summer, this recipe works really well cooked on a barbecue or you can even cook the fish over an open fire on the beach if you want a truly authentic experience.
In Bali, we tend to cook a couple of really big fish and let everyone share them but if you're limited to what you can get in the supermarket, cooking a small fish per person works just as well. We've suggested serving this with rice but it also works really well with just a salad if you're cutting down on your carbs.
The sambal matah (spice mix) for this dish packs a serious punch because it's got a lot of raw chilli in it, if you prefer something a little sweeter, try serving this with sambal tomat.
The fish:
In Bali, we tend to use snapper but this recipe will work with most white sea-fish. In the photos, we used two sea bass and two bream.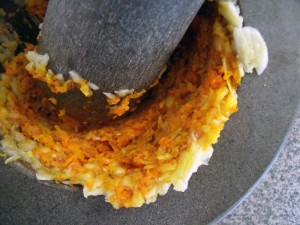 For the marinade:
Juice of 2 lemons
10 garlic
15 cm fresh turmeric (or 1 tbsp tumeric powder)
For the sambal matah:
2 shallots( finely sliced)
2 chillies(finely )
2 lemongrass ( finely chopped)
½ tsp shrimp paste ( grill into the oven for 3 minutes)
4 tbsp veg oil
salt to taste
Method: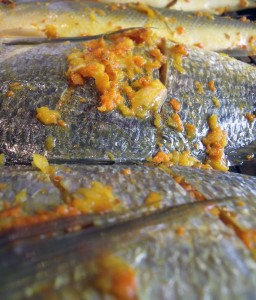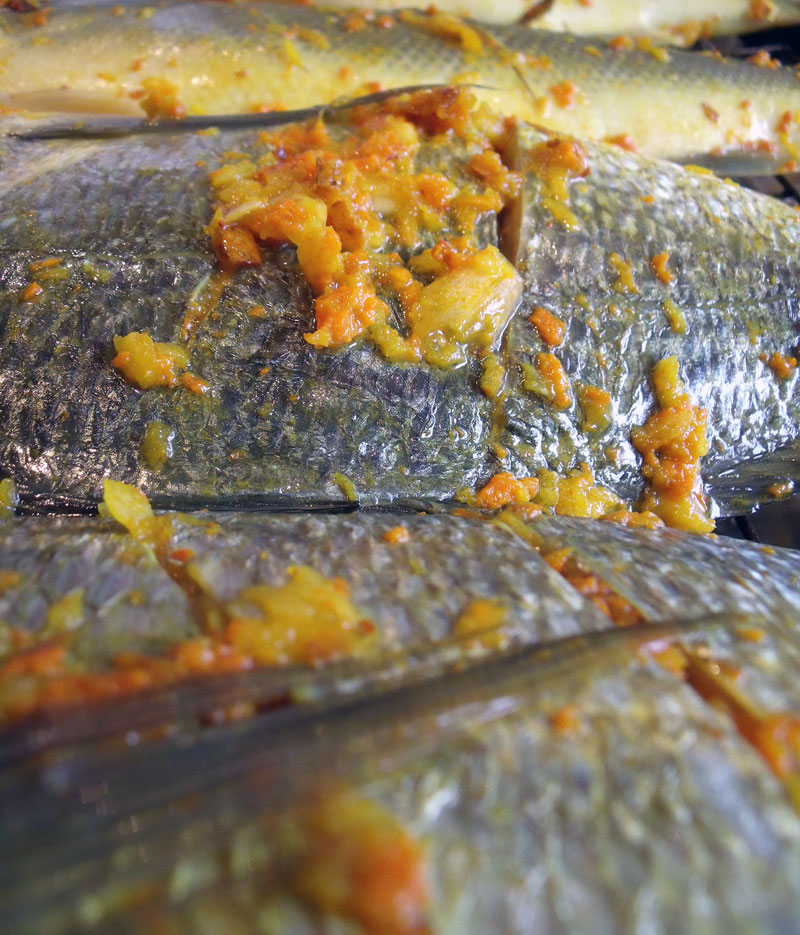 1. Clean the fish thoroughly, score the skins to let it soak up the marinade and make it easier to get off the bone later, then squeeze the lemons over it making sure to cover the fish and get some juice in the gills and the cavity. Crush the garlic and turmeric in a pestle and mortar or blend in a food processor. After that, cover the fish in the marinade paste, cover with clingfilm and put in the refrigerator for 30 minutes or more.
2. Cook the fish on a griddle, grill or barbecue over a high heat aiming to get the fish a little crispy on the outside but not overdone in the middle.
3. To make the sambal matah, chop the shallots, chilli and lemon grass really finely then mix together with the, shrimp paste, vegetable oil and salt.
4. For sambal tomat please refer to our sambal tomat recipe.
Serve with rice and sayur urab any other vegetables of your choice. Serve the sambal matah on the side so diners can take as much or as little of it as they need (it's seriously spicy!).
Related posts: